Having been voted the best sounding MP3 player
must be a publicity coup...
...but, there's a rather calculated side to this apparent victory.
Take a look at the graph below*.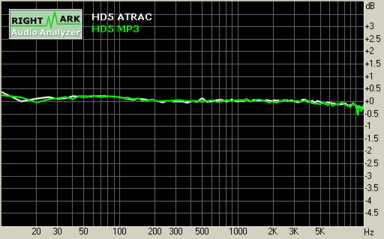 This reading was taken with all EQ turned off on the HD5. It's a shame I can't scale these graphs more to indicate the sort of impact it might have on hearing, but while for example the iRiver H320 has basically a flat response in the 20-100hz range, the NW-HD5 has a (very audibly noticeable) shaped boost. To implement a curve like this, you don't do it by accident or by inappropriate component choices. It's
engineered.
The NW-HD5 therefore makes a mockery out of any listening tests with 'flat EQ settings'. I'm not trying to debate whether the bass boost makes things nicer, it is simply that like-for-like comparison must be just that, and the Sony tuning of the 'flat' sound is... well, for want of a simpler word, cheating. For example, would the HD5 still sound better in that "test" if the Cowon X5 was given a slight boost in the lows? You know, I think it might lose. Would slipping in '02' bass boost on the H320 make the iRiver sound 'better' to the test panel? Quite possibly. The big difference between the Sony and the rest is that the other players don't play this trick, so comparing with no EQ is a reliable test of sound quality for all but the Sony. Even the iPod with the now infamous fall-off has a flat response when loaded with high-impedance phones.
Although I make no definitive judgements which I'm prepared to publish here about the sound quality of the HD5, it is perhaps not quite as clean as at least two of the players on that comparison list. I put it to the CNET staff that they were fooled by the bass boost of the HD5... frankly, I'm quite surprised that no-one picked it up. I did within 10 seconds of hearing a track I was familiar with on the HD5, not as an improvement in quality but as simply a boosted bass.
*Usual disclaimers apply... not guaranteed accurate, author indemnified against inaccuracies, yada yada yada. ATRAC3+ 256K & 320K LAME MP3 codecs, loaded with 16 ohms impedance and adjusted for typical listening levels.